14 year old Autumn has had sex in public with men as old as 23 years of age and routinely steals cars for joyrides. Ironically, her mother was killed in a car accident.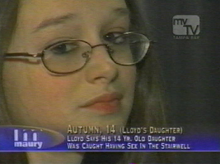 Autumn's father Lloyd says Autumn was caught having sex in a stairwell at their apartment complex while he was in the hospital for surgery and is violent toward her little sisters. He fears that Autumn will get into a car accident and kill herself or someone else.
Autumn said in her interview taped before the show that "it felt damn good" having sex with a 23 year old. She admits being violent toward her sisters because "they deserve it". She loves drinking vodka and says "If I'm drunk and I'm driving, you can count on me to drive you home. I'm the best drunk driver there is." She admits to stealing cars if she can't get a ride home.
A hidden camera was placed in the green room with a decoy. Autumn admitted she got paid three times for sex. She said the jacket she was wearing cost $299 but her sugar daddy who was 43 years old bought it for her. Autumn told the decoy she had sex in the school bathroom on the sink and has had sex with 17 or 18 guys.
When Autumn came out from backstage, Maury suggested she was acting out because of her mother's death. He says her behavior is a "cry for help". She admitted to everything she revealed to the decoy.
After the show, Autumn and the other wild teen girls were transported to a detention center in Monmouth County, New Jersey.