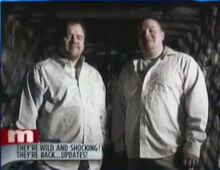 David controls his wife Jenetta and taught his son Josh to control his wife Tricia. "I was raised this way, my dad was raised this way, his dad was raised this way and my grandchildren will be raised this way." David said.
David makes Jenetta bathe in his dirty bathwater as a way of saving money. He once threw her outside in the cold weather. He takes her paycheck and deposits it into his checking account. When Maury asked if Jenetta had a checking account, David responded, "No sir, she don't need one." He did not allow Jenetta to visit her mother or sister before they passed away five years ago. David says if he didn't control Jenetta, "She'd be a 600 pound woman in bankruptcy and living alone".
Josh says he learned from his father that women are slaves. Like his father, he also makes Tricia bathe in his dirty bathwater and deposits her paycheck into his checking account, giving her just $2 a day for gas. Josh also teaches his son to abuse his mother and grandmother. When Maury reminded Josh that slavery is illegal in this country, Josh responded, "Not in my house". Tricia says Jenetta warned her about Josh's behavior before they got married and admitted she didn't listen to her.
David's daughter Jessica who was in attendance in the audience, said she left home due to her father's abusive behavior. She said that "he beat me because he thought I was with somebody and I wasn't." "I kicked her ass out...busted her ass good." David said. Jessica says she is disgusted by the way her father and brother act.
Later in the show, a woman named Fredia, a former guest who was controlled by her boyfriend and set on fire returned to speak to Jenetta and Tricia and warned them what could happen if they stay with David and Josh. Another motivational speaker named Brenda took the women to a beauty parlor for makeovers. D-West confronted David and Josh and took them around the streets of New York City to talk with women who were homeless because of being controlled by their former lovers.
In an update episode, Maury revealed that David was carjacked and his father passed away which helped him and Josh change their behavior.
Ad blocker interference detected!
Wikia is a free-to-use site that makes money from advertising. We have a modified experience for viewers using ad blockers

Wikia is not accessible if you've made further modifications. Remove the custom ad blocker rule(s) and the page will load as expected.