18 year old Aris was on the show with her mother Dawn. Aris slept with Dawn's 32 year old boyfriend Thomas and soon after she got pregnant with her two month old daughter Nicole. Thomas frequently shook his head no while backstage.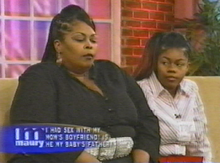 Dawn forgave her daughter but said there was no way she would forgive Thomas. She says he's "disgusted" at Thomas for sleeping with her daughter and refusing to help take care of Nicole. She said that she knew that Aris was pregnant but that Aris initially hid the pregnancy. When Maury asked Aris why she didn't tell her mother immediately, she claimed she didn't know she was pregnant until she was four months along. She admitted she had sex with Thomas in Dawn's house. Dawn said she didn't go the hospital when Nicole was born because "I couldn't handle it." When asked by Maury if she wanted to be with Thomas now, she said "No! No!".
Thomas admitted to sleeping with Aris but denied he was the father of Nicole. "I'm sorry I hurt Dawn, she did not deserve that," Thomas said, "But that still doesn't change the fact that Aris' baby is not mine...I want both of you women, Dawn and Aris, to leave me alone!" He said that he was shot in the buttocks in 1991 and was informed by a doctor at the hospital that he would never be able to have children. He also claimed that Aris slept around with many men, she seduced him and that Dawn wants him back.
A DNA test proved Thomas was not the father of Nicole. Upon hearing the results, Thomas danced on the set.