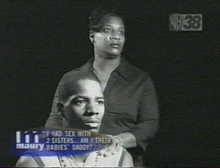 16 year old Erica was on to the show to prove to her ex-boyfriend, 15 year old Curtis that he was the father of her son Anthony. She said she dropped out of school to care for her son with no help from Curtis and said she was 100% sure that he was the father.
Curtis was accompanied by his mother Sheila who vowed not to "let a silly little 16 year old girl ruin his life". She said that "My son said that he used a condom, and I believe him and not her...all the kids in the neighborhood say that Erica is a whore and that she gets around." Sheila also claimed that Curtis wasn't the father because he has one testicle and cannot have children because of it.
When Maury asked Sheila about her son's medical condition, she said that Curtis had a hernia when he was 7 years old and the doctor discovered that one of his testicles never formed when he was a baby. As a result, the doctor said it would be difficult, but not impossible, for Curtis to have children. "Well, he has one." Erica interjected. Nevertheless, the DNA test proved that Curtis was the father of Anthony.