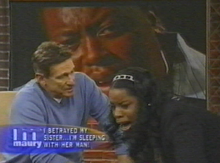 Lakiesa feared that her fiance Faheem was still cheating on her after she previously forgave him for cheating five times. Lakiesa had Faheem's phone number transferred to her and she was getting phone calls from women who say they were having sex with Faheem. Lakiesa also says Faheem cleans his private parts before coming home.
Lakiesa said she stayed with Faheem because she wanted to keep her family intact and did not want to be a single mother. Faheem and Lakiesa have a 1 year old son together and he helps raise her seven year old son from a prior relationship. Maury commended Faheem for doing so.
Instead of taking a lie detector test, Faheem decided to confess everything to Lakiesa. A video was shown of him confessing that he cheated with 35 to 40 women over 100 times. He also lost his job, explaining why Lakiesa called his work only to be told he wasn't there. Faheem cheated with a close friend of Lakiesa who caused scratches on his back. Finally, Faheem confessed to cheating with a woman who called Lakiesa. "You are a sick bastard," Lakiesa said, "I don't want to have anything to do with you." Backstage, Faheem tried to beg Lakiesa to forgive him to no avail. "You are so sick! You are sick!" Lakiesa said.