She was on a Maury episode in 2001 on a episode called, "help! I'm afraid of aluminium foil and cotton balls.
phobia? Aluminium foil
Reaction to sound of her phobia? She started hyperfentilating and trembling
actual reaction? They brought it out without her knowing so she yelled and screamed at the same time at the woman carrying the massive aluminium foil ball and ran to the left side of the studio to get backstage.
Age: 40s-50s
she was the third guest on the show and there were seven guests on the show.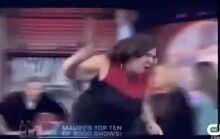 Ad blocker interference detected!
Wikia is a free-to-use site that makes money from advertising. We have a modified experience for viewers using ad blockers

Wikia is not accessible if you've made further modifications. Remove the custom ad blocker rule(s) and the page will load as expected.